1996 Ready to build
1997 Cutting with stone axe
Assembling
Raising
Tying
Covering
A well deserved rest!
The team
1997 Finish at last
1998 Smoking permitted
1999 It's quite confortable for a night
2001 Vandalism on the second skin
2001 The palissade is down
2006 The Long House is down
2006 A new archaeological project
Building an Iroquoian Long House is easy on paper, but in the middle of a forest it's another story. Cutting a tree with a stone axe is much more difficult than with a steel one. We have to relearn how to build.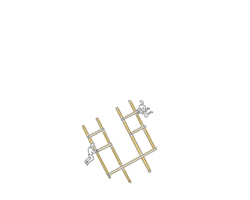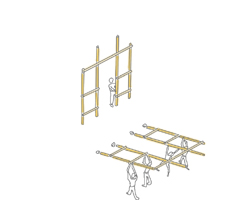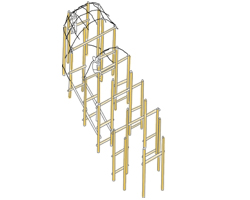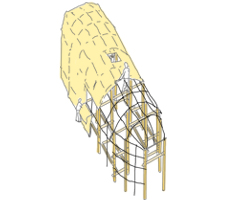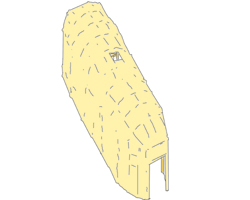 Students:Katherine Bosnitch, Alison Crossman, Helene Cunningham, Lara T. Evoy,John K. Grande Catherine Mattes, Terry Provost, Grazyna Szawlowsky, Lara H. Tomaszewsky, Sarah Joanne Touchie, Abbie Felice Weinberg, W. Stephen Werry et Jonathan Wise.
Workers: Antoine Cloutier-Bélisle, Denis Valiquette, Vincent Cloutier-Boucher, Laurence Lemay-Bélisle, Émilie Lemay-Bélisle, Catherine Lemay-Bélisle, Claire Bélisle, Richard Lemay, Lucie Bélisle, Louise Lefebvre.